Ask any educator, doctor, or law enforcement professional, and they will tell you that Maine is currently experiencing a behavioral health crisis. They observe and interact daily with community members struggling with mental health and substance use needs in record numbers.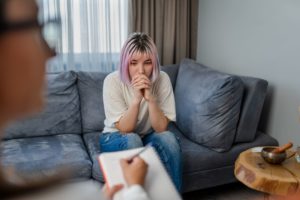 The data tells us the same story, our neighbors are struggling:
More than 40 percent of Maine high schoolers report mental health problems, a new survey reports.
In 2021, 18.5% of high school students seriously considered attempting suicide in the last 12 months — an increase from 16% in 2019.
Maine overdose deaths set a record for 3rd straight year in 2022; the current estimate for 2022 is 716, which represents a 102% increase in fatal overdoses in five years.
Yet when individuals are ready to take the brave step of seeking treatment for their mental health or substance use concerns, care is harder to access than ever. Nationally, people identifying as having an unmet need for mental health care cited barriers to receiving care such as cost, lack of insurance or insufficient coverage for services, not knowing where to go for help, or not being able to get an appointment.
Families seeking outpatient mental health and substance use disorder treatment for their children face wait lists of up to eight months at agencies that provide outpatient therapy and substance use counseling in Kennebec County. Adults are experiencing waitlists from four to six months.
As many agencies are closing their waitlists because they are becoming so long, individuals aren't moving into care; Crisis and Counseling Centers (C&C) is shifting its outpatient model of care to increase its therapeutic capacity to support the need for accessible mental health and substance use care in the communities it serves.
OPENING ACCESS
In September 2022, C&C launched the Open Access Center, a pathway to care that prioritizes same-day care for urgent mental health and substance use needs. When community members reach out to the Open Access Center, a trained mental health professional greets them and begins the screening process to determine the level of care that is most needed. Based on the results of the screening, the coordinator connects individuals to:
C&C's Crisis Mobile Triage team for a crisis assessment and referral to higher levels of care like inpatient hospitalization or community-based crisis care;
C&C's outpatient mental health or substance use counseling for Solution Focused Brief Therapy for 8-12 weeks; or
Outside providers as appropriate.
Care through the Open Access Center is available to Mainers of all ages and is not limited based on a person's place of residence. However, the program primarily serves residents in Kennebec and Somerset Counties, including those who are not existing clients of C&C and those without health insurance.
"The screening process is essential to the success of the Open Access pathway to care. It ensures that individuals are connected with the most appropriate level of care based on their needs when they reach out for support," says Amber Kruk, Director of Communications and Development at C&C.

"In the first three full months since launching Open Access, 22% of the individuals we served were connected to crisis services, a level of care they didn't know they needed or even knew existed. This means we were able to engage those individuals in a range of services and supports to meet their most urgent needs as well as helping to prepare them for additional treatment and support they might need moving forward."
Take Kim, for example; when "Kim" (pronouns: she/her) called C&C's Open Access Center, she was not seeking crisis services. Instead, she was seeking outpatient treatment to support urgent mental health and substance use concerns, but it became clear as she spoke with the staff at the Open Access Center that Kim needed more help than she realized.
Kim was navigating a Department of Health and Human Services (DHHS) case in which she was working to reunify with her children. She was struggling with depression and high levels of anxiety. It had been two months since the last time she used a substance, but on that day, she needed help urgently because maintaining abstinence from substances was becoming increasingly challenging.
As she spoke with C&C's staff, they determined Kim needed rapid connection to care. As a result, Kim was referred to C&C's Crisis Mobile Triage team to assess Kim's safety to make the most appropriate recommendation for support and services based on Kim's recovery needs.
C&C's crisis workers determined that Kim could safely remain in the community while she worked with C&C's Crisis Outreach team to connect and set up appointments with other services to support her ongoing needs. Within 30 days of contacting Crisis and Counseling Centers, Kim was connected with providers outside of the agency to help her with her long-term recovery goals as well as a case manager to help her navigate the challenging reunification process and connect her to the resources she needs to succeed as an individual and as a mother.
Without the support of Outreach, accessing those services would have been a long, complicated process due to the high number of providers with waitlists. In addition, between navigating a DHHS case and the impact that mental health and substance use concerns can have on an individual's ability to function, the process of finding services herself may not have felt manageable to Kim.
Had Kim not called, it's doubtful she would have connected to C&C's crisis services before she escalated to a mental health emergency. As a result, Kim is safe, connected, and working on her treatment, recovery, and reunification goals.
SHIFTING THE MODEL
As crucial as screening is to the success of the new model of care, so is the intentional move away from traditional longer-term therapy models. Instead of individuals working with a clinician for anywhere from six months to multiple years, C&C clinical staff are now, on average, providing 8–12 weeks of treatment through a Solution-Focused Brief Therapeutic approach.
Solution-Focused Brief Therapy is a strengths-based approach based on the belief that individuals understand their mental health and substance use needs best, better even than their therapist. The therapist's role is to support the client in selecting a goal(s) they want to achieve. Then the client will work with their therapist to find solutions to help meet these goals, often identifying and implementing techniques the client has successfully used in the past.
Knowing that people were waiting for help and not being able to respond was hard on the staff at C&C.
"Our team could see that the current system of care was ill-equipped to meet the growing need for mental health and substance use treatment in the communities we serve. In addition, the shrinking behavioral health workforce only exacerbated the issue further. Our team could see the problem, and Open Access was our response," explains Kruk.
With its current clinical staff, under the new Solution-Focused Brief Treatment model, C&C can provide urgent mental health and substance use care to 685 more community members, a 466% increase over the traditional long-term therapy model it was previously providing.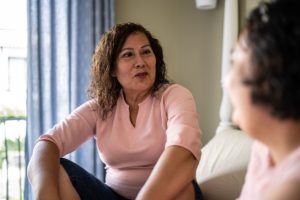 For Cal, the Solution-Focused Brief Therapy model was the right level of support they needed.
When "Cal" (pronouns: they/them) called the Open Access Center, they were struggling with a chronic, progressive medical condition, financial stress, and challenges in their primary partner relationship which were causing high levels of anxiety. On top of that, Cal also had a major surgery approaching and was feeling anxious and frustrated with the patient-provider dynamic with their doctor.
The staff of the Open Access Center listened to and connected Cal to a provider in C&C's outpatient mental health program for Solution-Focused Brief Therapy.
With their therapist's assistance, Cal identified the primary concerns they wanted to work on. In addition, Cal learned relaxation and mindfulness skills to manage the anxiety symptoms that had manifested in their body and used Cognitive Behavioral Therapy techniques to manage the worrisome thoughts associated with their pending surgery. Cal also learned self-advocacy and assertive communication skills to help them establish a more collaborative partnership with their medical providers.
Learning these tools helped Cal feel more self-confident and helped them establish a sense of agency to make positive changes in their life. Cal also began adopting positive dietary changes and working on using the communication skills they learned in therapy to create and maintain healthy boundaries with their life partner. In addition, Cal was provided with information about the importance of self-care and worked with their therapist to identify and implement self-care strategies.
After eight weeks of therapy, in their last session, Cal said, "I'm not anxious anymore, and I've been anxious all my life."
Had Cal not contacted Open Access, it's unlikely that they would have received care quickly. It's possible that if Cal hadn't received care, their concerns could have escalated to a mental health crisis.
Suppose we can prevent the escalation of mental health and substance use concerns for individuals like Cal by quickly connecting them with the right level of care when they need it most. If resourced appropriately, we may be able to lessen the need for long-term or restrictive care and reduce the strain on the behavioral healthcare system currently making it difficult to access care.
To learn if care through the Open Access Center is right for you or a loved one, visit https://gethelpnow.me/ or call (207) 626-3414.
To learn more about or make an investment in programming available through the Open Access Center, visit www.CrisisAndCounseling.org.
---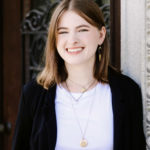 Interview and story by Amelia Metcalfe [she/hers], Development Specialist at Crisis & Counseling Centers
---