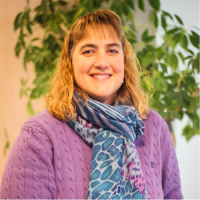 Laura Rossignol, MHRT/CSP, CADC [she/her]
Central Access Manager
(207) 626-3448 ext. 1175
---
Laura Rossignol, a native Mainer from "the County", joined Crisis & Counseling Centers in 1997 after earning her BA in Psychology at UMF. 
Laura has a rich history with C&C. When she first joined the team, it was as one of the agency's first Crisis Workers, when C&C first launched its 24-hour staffed crisis line. While in that position, Laura attended the 100-hour course at the police academy to become a "Midnight Team" Crisis Worker and rode with the Waterville Police Department officers. A few years later she was promoted to launch what is now known as the Outreach Department. Fast forward three more years and Laura was promoted to a Practice Manager position for the agency's full-time medication management department. In 2005, Laura accepted another promotion to Central Access Manager and was tasked with assisting with the development of the, then, brand new Central Access Department, now fondly referenced as "the face and voice of the agency". 
As Laura's more than two decades of experience as C&C demonstrate, she loves helping people and making a positive impact on their lives any way she can. 
Her motto? "You can't take away hope or faith."